It was a few more times past 16:00 when my plane has begun its descent to land at Giovanni Falcone.
All the afternoon sunshine had accumulated in every stone of the mountain which overlooks the airport.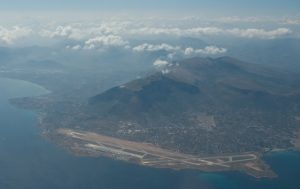 I could already feel that warmth through the aircraft window. The other side of the landing strip it is the Mediterranean Sea.
This is how Palermo reveals itself, such as the scene of an antique Greek theatre, like carved out of the rock, facing the sea.
I got off the plane and I turn around to take a second look on the Montagna Longa then I realize that the hue of the stone looks nothing like it was from the sky. Contemplating this mosaic, I understood concretely perhaps for the first time what Camus tells about when he is inviting us to imagine Sisyphus happy.
As for theatres in Palermo, there is no shortage. There are the institutions as teatro di Santa Cecilia, teatro Libero ; the imposing teatro Massimo and teatro Politeama, Crown jewels.
In addition to those, it must be added all places intended for artistic and cultural representation such as Cantieri Culturali della Zisa where I had the chance pleasure to see a contemporary stage adaptation of Antigone, "Antigone power" by Cristina Ali Farah, in which my friend Omar played a secondary rôle.
The characters were replying to each other in five different languages with traditional musical instruments on stage that made resonate this overfull auditorium.
That play, build up with a half of the actors who was on this side of the stage for the first time of their life, was the best I had the privilege to see and if were it up to me, they would all be awarded of a Molière reward.
For a Northern European used to a public space and social codes of behaviour much more, I would say, formalized ; every shop on street corners, each market stall, all living spaces, the city turn into a tiny stage and all his residents seems to be born actors.
It's talking loud, it's screaming, it's singing, from the balcony to call the friend downstairs, from everywhere and we are moving from burlesque to melodrama, there'll be to everybody's taste because that place for this is a continuous show.
Omar doesn't express himself on the stage only, the best initiatives I took, might have been to give a microphone: he has been extremely supportive of the personal project based on cross-cultural exchange through music I have elaborated.
I am glad I could have provided this activity which will have brought us together to create something and his development process, quite an obstacle course, has been for me a very formative enterprise. After a couple days in Palermo, I was feeling just like home. Strictly speaking, I barely felt having an adjustment period.
After two weeks I had met all those who, with time, will become my closest friends here, will stay my brothers after I will have left this island, before we meet again in an undefined future on another piece of land of this globe.
Because we are all on our journey, we are moving in the same direction, but on different paths, in the search for our free happiness.
And if we don't meet on the road, then will have to draw a new one.